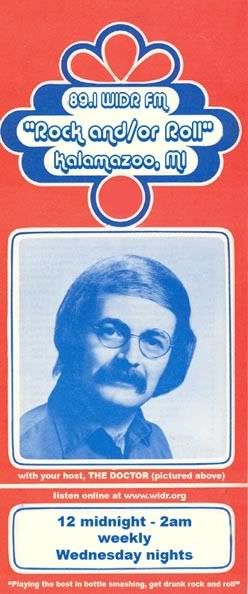 For the past 11+ years I have hosted a radio show called "Rock and/or Roll" on the local station 89.1 WIDR FM.
Tune in weekly on Wednesday nights at 12 midnight - 2am for the best in bottle smashing good times rock and roll. Punk, metal, garage rock, psychedelia, space rock, krautrock, power pop, glam, greasy R&B, rockabilly, surf, heavy blues, stoner rock, doom, country fuzz and much, much more from the 50's/60's/70's/80's to the present).
Sometimes I give away free tickets to local shows/events.
Sometimes I play your requests. Sometimes I play air guitar in the studio when no one's looking. Tune in to find out...
You can listen online by visiting
http://www.widr.org/
and clicking on the "LISTEN NOW" option in the upper right hand corner.
Oh, my DJ handle is "The Doctor". He real fuck up.