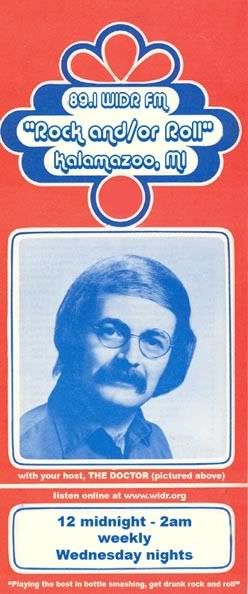 *UPDATED 2/4/16*
(The image reflects a promo item from 2008 with the show's original time slot and the station's previous website address. Please read the updated text for current show information.)
For the past 14+ years I have hosted a radio show called "Rock and/or Roll" on the local station 89.1 WIDR FM.
Tune in weekly on Wednesday nights from 9-11PM for the best in bottle smashing good times rock and roll. Punk, metal, garage rock, psychedelia, space rock, krautrock, power pop, glam, greasy R&B, rockabilly, surf, heavy blues, stoner rock, doom, country fuzz and much, much more from the 50's/60's/70's/80's to the present).
Sometimes I give away free tickets to local shows/events.
Sometimes I play your requests. Sometimes I play air guitar in the studio when no one's looking. Tune in to find out...
You can listen on your radio dial at 89.1 WIDR FM (in the Kalamazoo, MI listening area), stream online at
http://www.widrfm.org/stream/
or on your smartphone/tablet via the Tunein Radio App!
Oh, my DJ handle is "The Doctor". He real fuck up.